How to Change Title Tag in WordPress and Blogger for Search
Show your page title optimized in search to increase your ranking. Learn how to change your title tag in WordPress and Blogger blog.
The title tag for the blog is very important in Search Engine Optimization. Here I am going to show how to optimize your Title Tag in WordPress and Blogger blog to get more attraction.
You may know that there is a great importance of heading on the web page. So, we have to know the proper use of heading tags on a web page.
In WordPress blogs, there is an easy option to customize your title tag from post and page editing options. We'll discuss how to change them in the best way.
But In Blogger, we don't have an easy option to change the Title structure. The default title structure is not Search Engine friendly.
How to Change Title Tag in WordPress
To change the title tag in WordPress, install Yoast or Rank Math SEO plugin. Then visit the page or post page you want to change the title. Go to Yoast or Rank Math Settings. Set your Page Title as Site Title Separator Tag Line and for Post Title Title Separator Site Title
Normally we can change Post and Page title from the editor. But if we want to make a different title for search engines, we have to set it from SEO plugin.
Here, I'll use Yoast SEO for that. Yoast is a very simple and easy SEO plugin for WordPress.
On the other hand, Rank math offers so many paid features for free.
You can use any of them. But if you want simple settings then I recommend using Yoast SEO.
Let's see how to set different titles for search.
Change SEO Title Tag in WordPress with Yoast SEO
Here we'll use the Yoast SEO plugin to change title tag in WordPress though you can use other SEO plugins.
First you have to install and activate the Yoast SEO plugin from WordPress. Then set up the Yoast SEO plugin for your site.
Go to Plugins > Add New from your WordPress dashboard.
Search 'Yoast' in the search box
Install and Activate the plugin.
After activating the plugin, we are on the main part to change Title Tag in WordPress.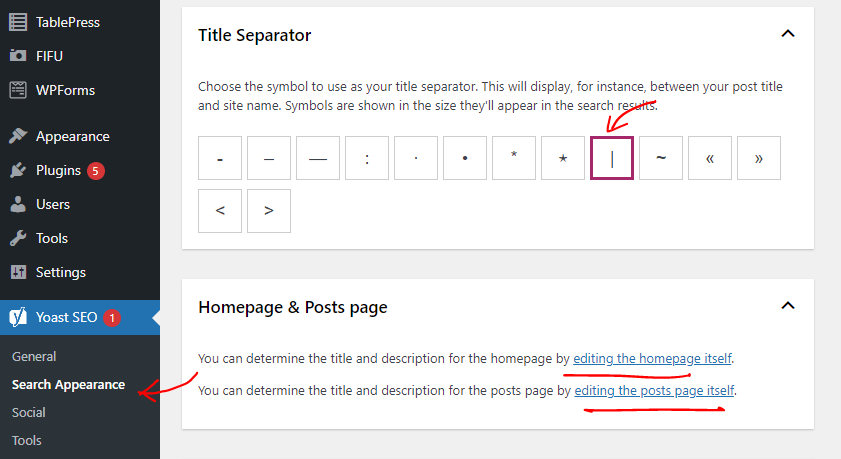 Now go to Yoast SEO > Search Appearance from WordPress left panel. Select any Title separator you like. I would like (|) pipe.
Change Homepage Title
Now you have to change the Homepage title. Click editing the homepage itself. Or, you can directly go to Homepage > Edit Page.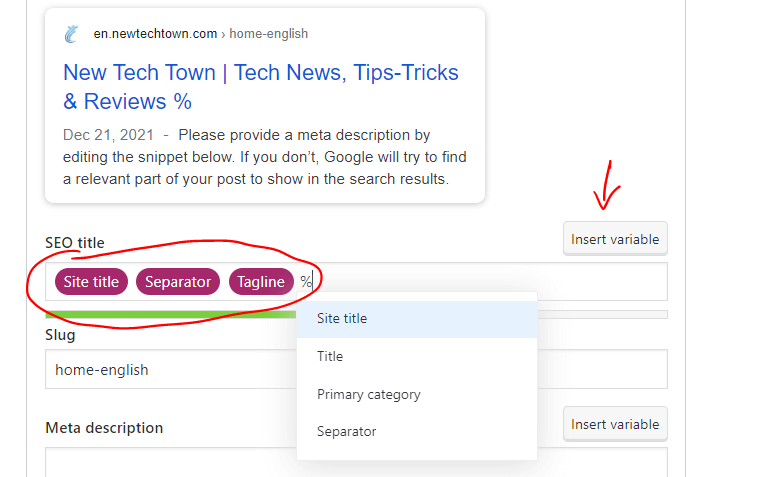 Set your home page title, Site title then Seperator and then Tag line. You can directly anything after seperator. Then click Publish. You can set your tagline form Wordress Settings > General.
Change Post Page Title/ Page Title
To change the post page title, follow the steps below:
Go to Yoast SEO > Search Appearance > Content Types
Find the Post option and set your SEO title as Title then separator and then site title. You can set your title as you want to show in the search.
Scroll down to the Page option and also set SEO title in the same way.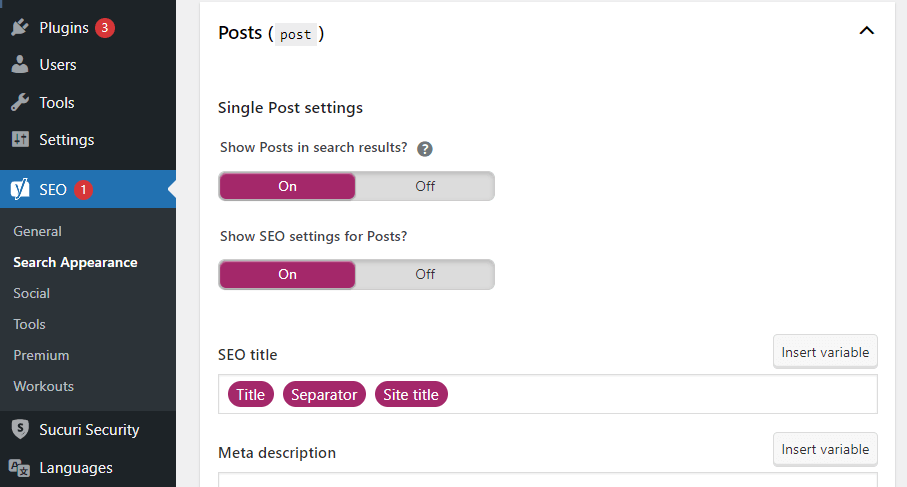 You may want to see how to Setup the Yoast SEO plugin
How to Change Title Tag on Each Page
You can change each page Title differently from the page editor. For that, you have to use Yoast or Rank Math plugin.
After installing and activating the plugin, do the necessary setup. Then you will find an SEO setup option on every page or post editor.
Yoast SEO options are found after the post/page editor while the Rank Math options come in the sidebar.
For Blogger blogs, there is no option to add a custom title tag for different post pages.
How to Change Title Tags in Blogger
If you are using Blogger, you can also optimize SEO title for your blog and increase your ranking.
Some SEO optimized themes come with an optimized title tag. If your theme has SEO optimized title tag then it is fine.
But, if your theme has an old and default title tag, you can easily change it in a better way. As a result, your ranking will grow higher.
In default, Blogger templates show Blog Title before Post/Page Title. This is something like….
Blog title | Post Title/Page Title
For better optimization and SERP position, we should show the Post title/Page title. But blogger default title sohow Blog Title first and then post or page title.
To change Title Tag in Blogger, follow the below steps:
Step 1: Go to Theme option from Blogger left side. Then Edit HTML.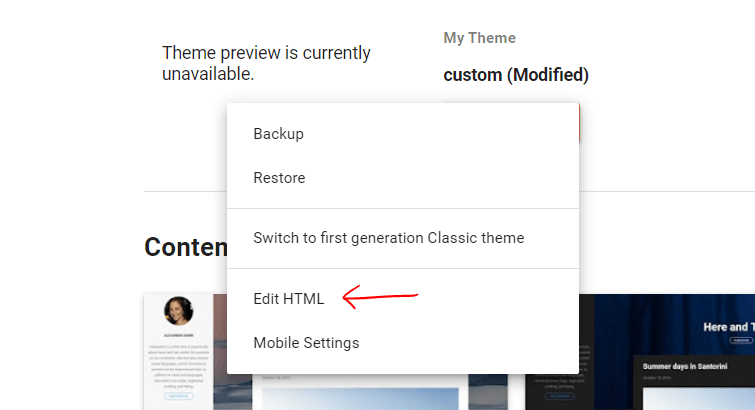 Step 2: Now search for the following Tag.
<title><data:blog.pagetitle/></title>
Delete this and replace this tag with the Following tag
<b:if cond='data:blog.pageType == &quot;index&quot;'>
<title><data:blog.pageTitle/> | Tag Line or Keywords</title>
<b:else/>
<title><data:blog.pageName/> | <data:blog.title/> </title>
</b:if>
Description of this Tag
<data:blog.pageTitle/> will show your Blog Title then place your blog Tag Line or a very short description. Remember your tag line describes your blog or website.
<data:blog.pageName/> will show your post/page title, then a seperator (|) and then Blog Title.
If you don't want to show blog title in post page, replace the 4th line of code with following code.
<title><data:blog.pageName/></title>
Hope you can easily change the title tag of your blog. Please don't forget to put a comment if the post helps you.
Want more tips and tricks to increase your Search Ranking, See all SEO Tips here- Beginners SEO Guide.