How to Add Website to Google Search Console
After you have created your website and made ready for publishing, you have to add your website to Google and Bing Search Console. Search console reads your site and index your web pages for search results. Setting up Google Search…
After you have created your website and made ready for publishing, you have to add your website to Google and Bing Search Console. Search console reads your site and index your web pages for search results.
Setting up Google Search Console is one of the most important steps for Search Engine Optimization. In this tutorial, we'll learn how to add your wordpress or blogger website to Google Search console and basic setup options.
What is Google Search Console
Search console let you monitor your website rankings, keywords and visitors. It will also show your websites errors, security issues, and coverage problems that may affect your website's rankings. Thus you can fix your website very easily.
As you are a serious blogger, you want more traffic from organic search earn from your website or blog, you must use search console.
Why You Should Add your website to Google Search Console
Google Search is the largest search engine by visitors usages. After adding and verifying your website in search console, you can monitor how you visitors are coming to your website. Google search console is a free tool by Google. You will enjoy following benefits from the tools.
Submit your website to Search Engine
Monitor Daily Rankings
Find most use keywords by your visitors
Core Web Vitals
Coverage Issues (indexing issues)
Fix issues
Mobile Usability
Disavow bad backlinks
How to Add a Website to Google Search Console
Step 1: Visit Google Search Console and click Start Now. Login with your email address what you want to use. Now you'll see the below popup window.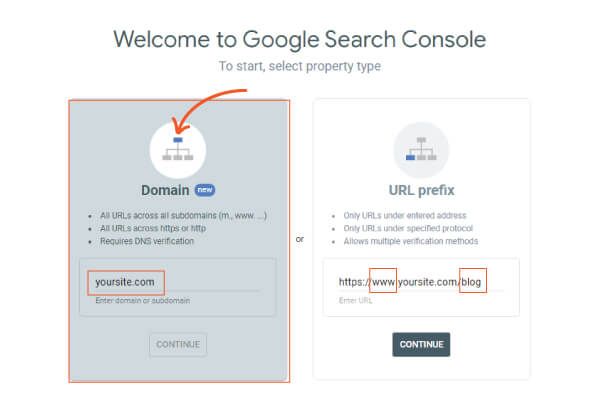 You have to understand which option you should use, Domain or URL prefix. Let me tell more about it.
Domain option is very new in Google search console. If you're going to add your naked domain (with no www, blog, support, or sales subdomain), you have to choose Domain Option from there. This option will add all your sub domains and directories.
Just type your domain name (yourdomain.com). You don't have to put https:// here.
Adding a naked domain was not supported in google search console before.
The second option to add Subdomains or Directories. Websites with www is also considered as a subdomain. If you have www subdomain, you can choose the URL prefix option.
You can also add any folder/directories/categories by adding /directory after the domain name. Here you must use https:// before your URL.
I think you should choose the first option Domain. Whatever you choose, click on Continue button from Domain option.
Step 2: Now you have to verify your domain. The easiest way to verify your domain is DNS verification.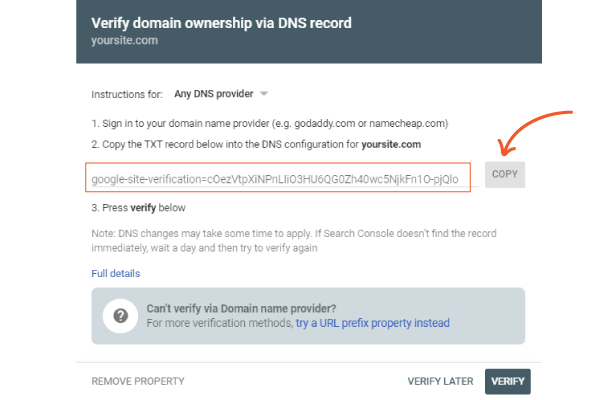 Now sign in to your domain name provider. If you are using cloudflare, visit Cloudflare dashboard. I usually prefer using cloudflare for Security and CDN.
You may read how to Speed up Your Website with Cloudflare.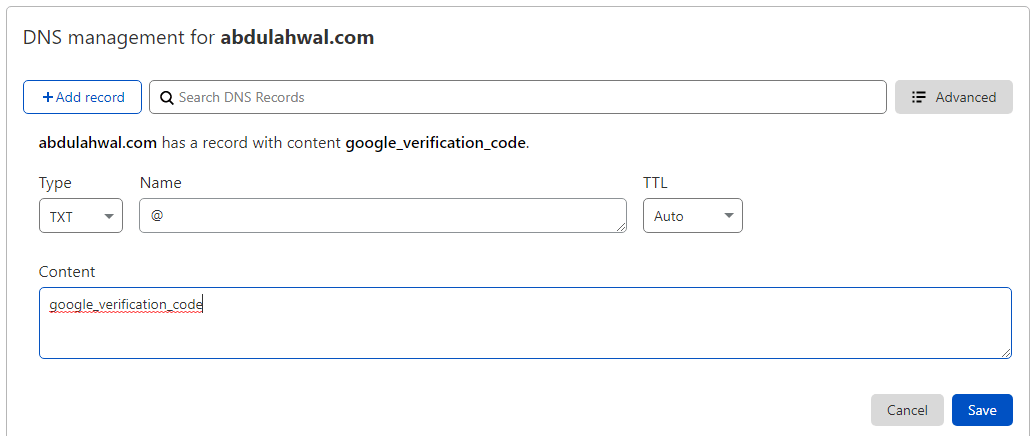 Now return to Google Search console and click on Verify button. Hope your domain will be successfully verified.
Submit Your Sitemap
After adding your website, you have to submit all the pages of your website to google search.