How to Add Free Live Chat Plugin for WordPress and Blogger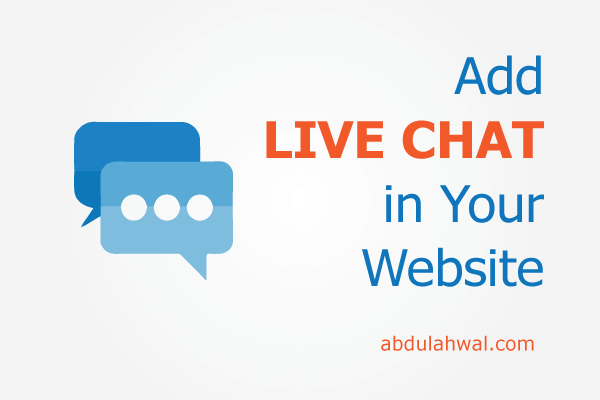 E commerce and Service based websites usually need live chat support for customers. A live chat facility give you more chances to convert your visitors to customers. These days customers also prefer live support and help.
Adding a live Chat option doesn't require advanced coding knowledge. Here we'll know the most used and best free live chat plugins and how to add them to your wordpress site.
Why to Add a Live Chat Plugin to your Website
Customer service plays a principal role in your brand loyalty. To offer better service, you should give your customers all the ways possible to reach you.
Live chat system is a painless way for your visitors to ask important question and know more necessary information instantly. That will surely increase your conversion rates.
Here are a few reasons why you should install a live chat plugins on your site.
48% of people reach out to customer service via live chat.
Live chat ranks on 3rd preferred option after phone and email according to user preferences.
52% of customers feel more loyal toward a brand that offers live chat.
Quicker and effortless ways to know your customers need and help them.
You can talk directly to your visitors, thus boost customer satisfaction, and increase sales.
The Best Free Live Chat Softwares
Though there are a lot of premium plugins for that, some free plugins offer you this facility like paid. The following plugins are most used
Tawk.to
Among all the free live chat plugins, this is the most used and user friendly. Tawk.to is 100% free with no upgrade or premium version. It's all the functionality is totally free.
It offers all the basic features a business needs. You'll have multi-language support, unlimited agents, chat-to-ticket ticketing, different departments, chat ratings, a few customizing options and more. Get tawk.to
Official Facebook Chat Plugin
Facebook Official Chat Plugin is a free chat plugin for wordpress users. Though it has a fee benefits, there are some limitations as well.
Pros:
You can manage your facebook page inbox and website chat inbox form one place.
Visitor can use their fb id to chat, so you can contact with them again in future.
This is very easy to manage and ou will enjoy built in facilities for facebook pages and messenger.
Cons:
No advanced customization available
Chat window is very large that looks odd
Sometimes it takes too long time to expand
If you love to use Facebook Chat, you will not make a big wrong. Many e commerce sites are using this for receiving orders and support.
How to Add Live Chat Plugin to WordPress
Normally every chat plugin gives you a small Javascript code to add on your website. You have to add this code before closing </body> tag.
For this you have 2 options- 1) Adding WordPress Plugin of the Chat or 2) Add the Script manually in your website.
Don't worry, I'll show you both the way here. Please follow the steps carefully.
First decide which plugin you want to install. You can also download the plugin in Zip format form the provider's website.
Install Tawk.to in WordPress
Step 1: Login to your wordpress Dashboard. Go to Plugins > Add New.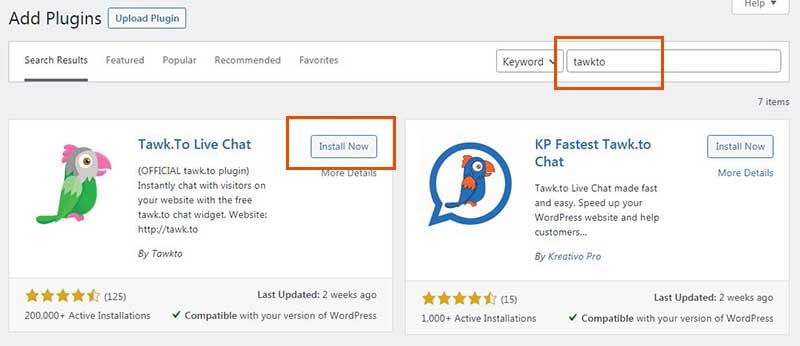 If you have already downloaded the plugin Zip file, upload it by clicking upload plugin. Or search the plugin for WordPress Repository just writing the chat plugin name.
Install and activate the plugin. After that go to settings of the plugin. In most plugins you have the setting option form Settings or WordPress Dashboard.
Step 2: Go to Settings > Tawk.to> Account Settings
You have to sign in with your email and password here. Let's create a new account with Tawk.to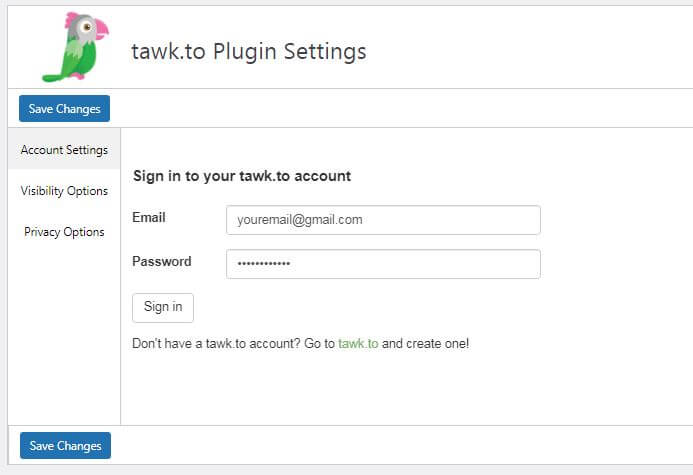 After creating Tawkto account,  put your email and password here and click sign in. Your chat system is ready for working.
Install Facebook Chat in WordPress